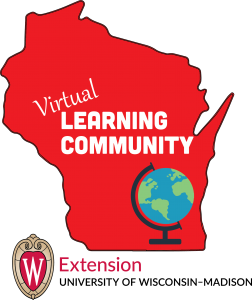 The Virtual Learning Community began summer 2020 in response to COVID-19 closing schools and canceling many afterschool activities.  The Virtual Learning Community filled immediate needs and continues to support education across Wisconsin today.   The Virtual Learning Community lives out its name by sharing virtual resources, access to content across Extension and best youth development virtual practices.
Connection before Content means
youth participants feel connected to, included in, welcomed and valued in programs.
all participants are empowered to apply learning as participants and facilitators in their communities.
a variety of topics designed to both improve accessibility to experiential learning for our participants.
visible and organized sessions promoted through the calendar on site and our social media channels.
Ruby T, 12 years old, shared, "My family isn't into international exchange and so by participating virtually, I was able to learn about other countries I would not have otherwise."
Frances W, 17 years old, shared, "I think one of the biggest parts of me coming back to the virtual space was that after my first session the follow up e-mail included a way to be in the team planning space for the sessions.  It was huge for me to be a part of it in that way.  I am already getting another look at how 4-H will continue in this space."
We are always building our calendar and hope you will not only participate as learners but also consider learning, teaching or sharing a skill or interest!
If you have questions, please contact Justin Lieck (justin.lieck@wisc.edu)