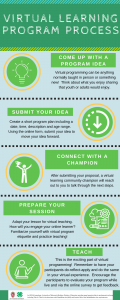 The Virtual Learning Community team is looking for activities to add to our calendar and share Statewide! Do you have a topic area you are interested in sharing your expertise in, or do you know of someone who would be interested in teaching? You can submit your activity and the committee will review it and help you get your activity up and running! Committee members are willing to work with you on your activities no matter your experience level in teaching. We offer marketing and promotion support as well as facilitator submissions support.
Please read through the information below to help you get started.
Virtual Learning Community Marketing support is about connection. Over the past two years we developed processes to support our colleagues and connect with our current and future audiences. This includes use of statewide strategies and local educator outreach. The window for marketing support for virtual sessions is now closed.
If you would like an example of a completed marketing plan for your future reference, click here.
We welcome your questions. If you would like to discuss the information requested prior to submitting, email Erin (erin.conway@wisc.edu) or Sara (sara.waldron@wisc.edu)
Virtual programming can be anything normally taught in person or something new! Think about what you enjoy sharing that youth or adults would enjoy.
Connection before Content – How will you engage your learners and make them feel like they are part of the group? Reflect using

this resource

.
Looking for ideas? Need some resources to help you teach? Check out the "Fun Hands-On Learning to Do at Home"
Plan for 45 minutes of project based or skill development content. Think about a series if you have more than 45 minutes of content.
Build in at least one of the Essential Elements (Belonging, Independence, Generosity, Mastery) in your program content. For example…Can youth use the skills they just learned to teach others? (Mastery); Can youth use the skills they just learned in service to others? (Generosity). Learn more about the Essential Elements
Create an outline or lesson plan to help with the submission process. A completed lesson plan is not a requirement for submitting your idea. Later in Step 3, you and your champion can work together to finalize your plan.
Here is a

Lesson Plan template

you can use, if you would like to…
Have questions about the lesson plan above use this Supplemental Guide.
Best Practice Point: People's attention span is ideal for 7-9 minutes and wanes after about 20 minutes. Plan to mix up content with engagement practices (poll, hands on activity, etc.) to keep everyone focused.
Create a short program plan including a date, time, description, and age range. Using the online form, submit your idea to move your idea forward.
Title & Description – Fun and engaging titles and descriptions draw people in. Include your summary of content, how you will format the program, how it will be delivered.
Audience – Is your program for a specific age (K-2, 3-5, etc.)? Remember different ages have different skills sets.
Your experience with virtual programming – How comfortable are you in a virtual space? We are here to help!
Promotional blurb – Submit a short paragraph or poster to promote your program.
Learning Objectives – What do you want your participants to learn or experience in your program?
Equity and Inclusion – Does your promotion look welcoming to all audiences? Are you being inclusive with the language you are using? Are there ways to include multiple perspectives and experiences? Can you share documents ahead of time to help participants with different learning styles? Can you use multiple ways to share directions (written, verbal, visual diagrams)?
Best Practice Point: The more details the better! This will help us, help you!
After submitting your proposal, a virtual learning community champion will reach out to you to talk through the next steps.
We (the Virtual Learning Committee members) are here to help.
A Virtual Learning Community Champion will schedule a virtual "connect" session to provide input, answer any questions you have, provide some tips, etc.
Your Champion may share coaching feedback about: the goals and purpose of your program, teaching strategies, lesson plan, promotion, virtual presentation support, and opportunity for belonging.
Best Practice Point: Ask lots of questions during your coaching session.
Adapt your lesson for virtual learning. How will you engage your online learner? Familiarize yourself with virtual programming etiquette and practice teaching!
Refer back to the lesson plan document in step one.
Anticipate connection challenges – people on Chrome books can't participate in breakout rooms; People connecting on their phones may not be able to annotate.
Familiarize yourself with the Zoom Etiquette for the meeting. Basic information for delivering 4-H through technology can be found

here

.
Best Practice Points:
Preparation is key with any teaching, but especially with virtual teaching. Have some extra content and/or different ways to engage learners.
Think about your background (will others be in the same room, what's on your walls), audio (headset or no), lighting (don't sit in front of a window, hard for people to see you.)
This is the exciting part of virtual programming! Remember to have your participants do-reflect-apply just like you would if you were face to face. Encourage the participants to evaluate your program while live and via the online survey to get feedback.
"Arrive" 15 minutes before the virtual session starts. Check audio, camera, etc.
Reduce distractions: phone on silent, shut off any other programs on your computer, put barking dogs or screaming children in another room, etc.
Sharing handouts or other resources? Will you send them ahead of time, after the session and how? We would also like to include those on the Virtual Learning website.
Wrapping up and evaluation – A statewide survey link will be shared with you to share at the end of your session. If you want some immediate feedback please feel free to create a poll or collect that information within the meeting time.
Best Practice Points:
Allow space and time for silence – virtual learning includes some delays.
Smile, breath, and you got this!
Submit your activity to lead here:
Virtual Learning Community Submission Form
With the easy to use back button, you can explore the submission form to learn a little more about the types of sessions and content.
Marketing Support Submission Form and Information-Marketing Support is closed.
Quick Links to Presenter Resources:
Resources listed below are referenced in other materials on this page. Below you will find resources and a short description of each.
The Virtual Learning Community offers sessions led by youth and adults providing opportunity for sharing and learning across generations.