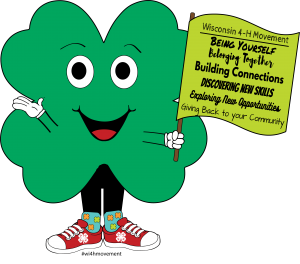 Hi Everyone! I'm Chris Clover and I hope you are excited about 4-H and the Wisconsin 4-H Movement! Check out all of the information I have for you on this page. You will find topics and resources important to YOU and others in 4-H. You will find information about the Wisconsin 4-H Movement, and you can view all of the materials we have for YOU to use! Have fun!
The 4-H movement is committed to providing youth development opportunities and promoting positive change for young people. Together we can make the best, better.
---
Click on Chris Clover to learn more!
In Wisconsin 4-H we value:






Essential Elements
In 4-H, the critical components of a successful learning experience are a sense of Belonging, Independence, Mastery, and Generosity. Across each curriculum, these 4-H Essential Elements are embedded through the learning experience.

Belonging
Youth need to know they are cared about by others and feel a sense of connection to others in the group.
Mastery
In order to develop self-confidence youth need to feel and believe they are capable and they must experience success at solving problems and meeting challenges.
Independence
Youth need to know that they are able to influence people and events through decision-making and action.
Generosity
Youth need to feel their lives have meaning and purpose.
---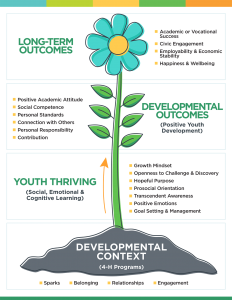 4-H Thriving Model
We've learned that youth thriving is dependent on having high quality 4-H programs where youth feel like they belong and have relationships with supportive adults. We also know that thriving youth achieve important developmental outcomes, like personal responsibility, academic motivation, confidence, and high personal standards.
---
4-H Pledge
The 4-H Pledge is a way to get a glimpse of what 4-H members and leaders focus on in this year round youth development program.
---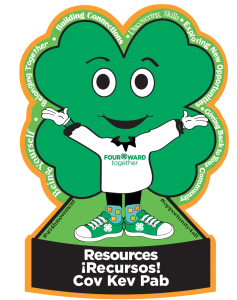 Resources – Check out these ready to use resources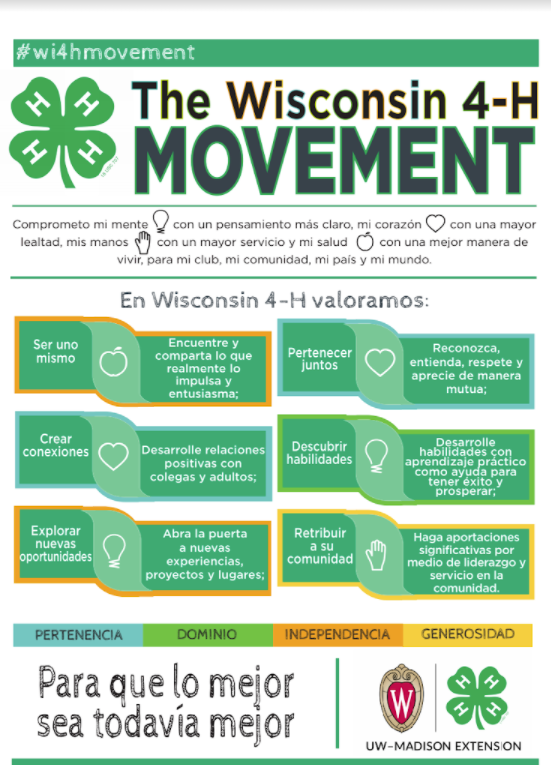 Editable Posters and Documents are a great way to use the 4-H Movement in your county!
---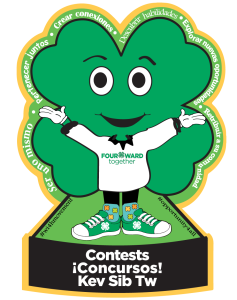 Contests – Current Challenges and Past Entries
4-H Needs YOU to be YOU | 4-H necesita que tu seas tu | 4-H xav kom Koj yog Koj
Have you heard about Chris Clover and the Wisconsin 4-H Movement? Hopefully, you have and are ready to join in on Chris Clover's next adventure. This time it's all about YOU. We hope you'll help us learn something new through the "We Want You To Be You Shirt Design Challenge."
The Challenge
We're excited to learn about what is important to YOU in this new challenge. We hope you'll help us by designing a shirt for Chris Clover so we can share with everyone else! Here's more information:
Design Contest Poster (digital)
Here's what to do:
Download the Chris Clover shirt template from the options below, or if you want to create your own or free draw, please do!
Create your shirt about a cause, project, history, anything important to you.
Write about your shirt and any information or resources you have that will help others learn. Submit your design at http://bit.ly/wi4hmovementpic
We can't wait to learn about what is important to you! For more information about Chris Clover and The Wisconsin 4-H Movement, please visit http://cc.wi4h.org.
Designs must uphold the values of Wisconsin 4-H and may need to be edited to fit the Chris Clover design. By submitting a design, you agree for it to be used on social media and for promotional and educational purposes.
For communicative accommodations in languages other than English, please contact oaic@extension.wisc.edu.
Para pedir adecuaciones para la comunicación en un idioma distinto al inglés, favor de comunicarse con: oaic@extension.wisc.edu.
Rau kev sib tham pab cuam rau qhov lwm yam lus ntawm lus As Kiv (English), thov sau ntawv rau: oaic@extension.wisc.edu.
Where has Chris Clover Been – Video Overview
Chris Clover has had the chance to tag along with Wisconsin 4-Her's throughout the summer as they lived the Wisconsin 4-H Movement! While their adventures are not over yet, let's look at the 4-H fun happening throughout Wisconsin and beyond!
In June, Chris Clover explored MANY new opportunities. They met Kitty and Klover from the "Foaling Around with Wisconsin 4-H" program along with educators, Evan and Katie, and 4-Her, Jax. Chris Clover then helped finish a project exhibited at the Washington County Fair. Other opportunities included: exploring The International Crane Foundation with Sauk County; heading to camp with Iowa County; and helping at camp in Outagamie County. They even got to go to Rocky Mountain National Park in Colorado with an Outagamie County 4-H family!
While discovering skills, Chris appeared at many county fairs and learned many new things. 4-Hers took them along to work on a leather quiver in Washington County and learn new art skills in Sauk County. They also helped prepare for the Waupaca County Fair and attended many camps throughout Wisconsin! Many of the new skills 4-Hers learned really showed how great it is to be yourself. Art was a trend this summer, showing how creativity lets you be yourself.
Chris Clover and many 4-Hers showed how much they value belonging together! They appeared at 4-H Club meetings in Adams and Fond du Lac Counties . Chris Clover learned about equine driving with the Adams County Horse and Pony group and helped Barron County youth create a breakout challenge. These experiences allowed Chris Clover and 4-Hers to build connections while trying new things. Chris Clover also really enjoyed giving back to the community and helped Brown County 4-Hers hand out water bottles at the Bay Beach Amusement Park on a hot summer day!
What a fun journey! Chris Clover is popping up all over! Where have you been with Chris and the 4-H Movement this summer? There is still time. Send us your pictures by clicking the "Chris Clover" banner at wi4h.org! We can't wait to see all the adventures!
---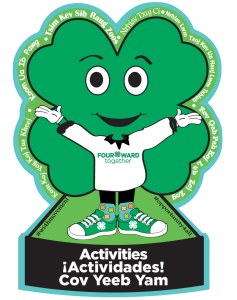 Activities – Try these out!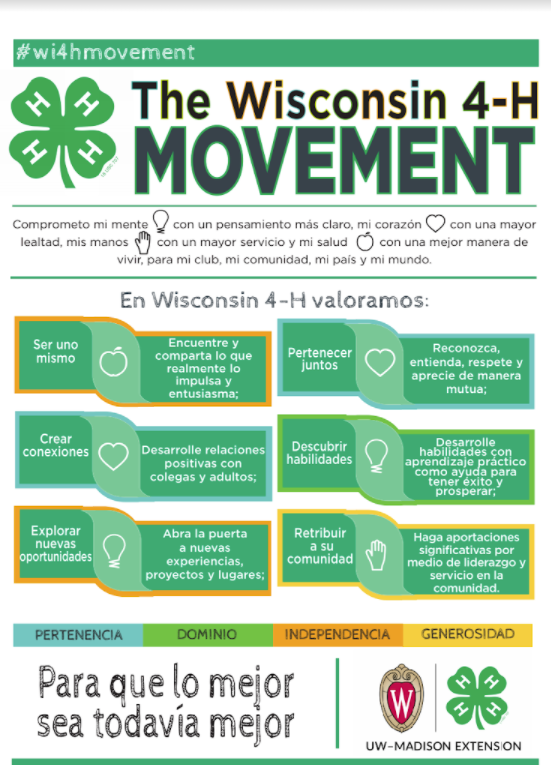 7 Activities for your club/group!
---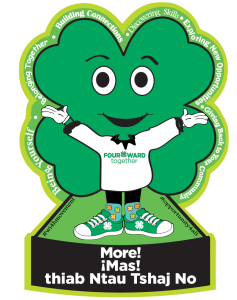 Learn about what's important to WI youth and families!
Spotlight
We asked Extension Educators to share more about how they share learning in their communities.
Chris discovered some 'chispas' reading two books by Naibe Reynoso. Now they are excited to celebrate Hispanic Heritage Month AND learn all month long with Juntos WI 4-H families. JUNTOS means together. Across Wisconsin 4-H, we learn together and lead together to provide opportunities to try new things and connect people to information.
¡Descubre 4-H, JUNTOS!
Throughout Hispanic Heritage Month, we invite you to learn about someone's contribution to your 'spark', or to try on something new. Maybe even make a friend using a new language! #Building connections
Sign up for the Juntos Newsletter https://app.e2ma.net/app2/audience/signup/1932430/1923263.376494271/
Explore website resources https://youth.extension.wisc.edu/juntos-wisconsin/ 
Learn more with Chris at https://4h.extension.wisc.edu/the-movement/
RESOURCES 
Watch this video with Chris to learn about people in your community
Find your 'spark'. Chris found some ideas reading Fearless Trailblazers-Pioneros Audaces or Be Bold! Be Brave!-Se Audaz, Se Valiente by Naibe Reynoso.
Chris also researched our rich Hispanic Heritage in Wisconsin. Explore how so many have contributed to your 'spark'.
---