Training is one way that 4-H invests in you, the volunteers who support young people who participate in the program. In the same way that 4-H youth strive to "make the best better," we as adults can continue to learn and grow throughout our lives. We invite you to use the resources below to explore more about how to ensure youth are thriving through Wisconsin 4-H.
As a volunteer, it can help to understand the educational foundations of positive youth development. Whether you are a beginner, have some experience as a volunteer, or have been around for a long time, here's an opportunity to grow your knowledge and skills.
Annual Leader Training
Each year, youth and adult volunteers and leaders from every chartered 4-H club and group are encouraged to participate in Annual Leader Training. The training topic changes each year to focus on subjects of importance to the whole Wisconsin 4-H community.
2020 Annual Leader Training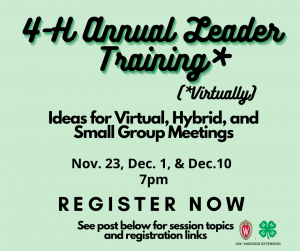 Register now to be part of the 2020-2021 Annual Leader Training!  This will be a highly interactive VIRTUAL program for 4-H leaders and older youth.
This year, there will be three (3) one hour sessions:
one hour focused on 4-H and leading 4-H club meetings and groups,
one hour focused on 4-H and learning in 4-H club meetings and groups, and
one hour focused on 4-H and laughing in 4-H club meetings and groups
Attend one, two, or all sessions!  These sessions are designed to give you, as club youth and adult leaders, tangible and usable strategies, activities and ideas to use during your virtual, hybrid or in person meetings.  Registration information is below.
Session 1:  Leading Club Meetings (business in 4-H clubs and groups)
November 23, 2020, 7:00-8:00pm (zoom platform)
Register here!  https://bit.ly/34S9F3c
Session 1 (Business/Leading) Handouts
Session 2:  Learning in Club Meetings (education in 4-H clubs and groups)
December 1, 2020, 7:00-8:00 pm (zoom platform)
Register here!  https://bit.ly/3dpsjTU
Session 3:  Laughing in Club Meetings (recreation in 4-H clubs and groups)
December 10, 2020, 7:00-8:00 pm (zoom platform)
Register here! https://bit.ly/3jYFpd6
Attendance will be tracked for the requirement of annual leader training on Wisconsin 4-H Club Charters.  In order to meet the requirement, one leader from each club or group MUST attend at least one of the hour long sessions.
Have questions?  Reach out to your local educator!
Learn more about how to use Zoom (and other online platforms) to help keep youth safe and engaged in virtual club, project, and other learning spaces.
Learn more about the four elements and how volunteers can help support independence, mastery, belonging and generosity in youth. The Essential Elements is an online, interactive training that takes approximately one hour to complete.
Additional Training Opportunities
State-level volunteer training opportunities like Fall Forum are available each year. Visit the Statewide Events and Opportunities page to learn more.
Each county also offers additional opportunities for volunteers to build skills. Please contact the PYD staff person in your county to find out what trainings may be coming up.