I. Purpose of National 4-H logo
All usage of the 4-H Name and Emblem must be for educational or character building purposes, uphold the dignity of the 4-H Name, and provide a benefit to the 4-H Program. This means that all uses need to contribute to the appropriate learning and positive development of the youth and adults involved in the 4-H program while aligning with the principles of 4-H and positive youth development and/or refraining from anything that contradicts positive youth development. The use must support 4-H programming, provide a sense of belonging to the 4-H community, and the benefit to 4-H must be equal to or greater than the benefit received by the entity authorized. To learn more about the National 4-H logo, view the handbook.
II. Wisconsin 4-H Logo
The logo for Wisconsin 4-H joins the UW-Madison logo to represent our connection to Campus. Further, it adds "Extension" to represent the Division of Extension's management of statewide 4-H functions. Extension is the sole coordinator of 4-H activities and, as such, its name must be in all uses of the logo. View and download Wisconsin's 4-H logo.
Using the 4-H Name and Emblem Quick Guide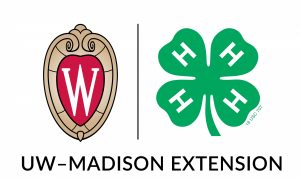 III. 4-H Charter Applications
The 4-H Charter indicates that a 4-H Club or Group is organized in accordance with the objectives of the Wisconsin 4-H program. The University of Wisconsin-Madison, Division of Extension grants 4-H Charters which formally authorizes a Wisconsin 4-H Club or Group to use the 4-H Name and Emblem for educational purposes in accordance with laws and regulations established by Congress and the U.S. Department of Agriculture.  In addition, the 4-H Charter Application provides:
Documentation of educational activities of the 4-H Club or Group/Committee needed for liability coverage for 4-H volunteers and members
Program impact evaluation and educational planning
Documentation of compliance by 4-H Clubs and Groups with EEO, ADA guidelines and Civil Rights laws.
The Wisconsin 4-H Charter Application and Annual Financial Report are located on the Charters page of the Wisconsin 4-H Volunteer website. The 4-H Charter Renewal Year is November 1 through October 31.