In 4-H Arts projects, youth learn the many facets of the arts. They learn basic principles of art and how to use those principles to create works of art. Activities include painting, printing, graphic, design, drawing, fiber arts, sculpting, photography, and filmmaking.
In 4-H Communication projects, youth learn to develop skills that are useful throughout a lifetime. They get an opportunity to practice their skills before a group; an opportunity to gather and organize information, equipment and props for public presentation; to develop confidence in making public presentations; and to learn to evaluate and enhance communication skills.
Spotlight on…WI 4-H Drama Company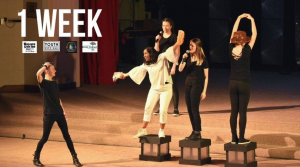 WI 4-H Drama Company creates a stage performance involving acting, song and dance in the five days leading up to Summer Academy. Show content is a collaborative effort between company members and their director. Each Drama Company member contributes ideas for the show and works with the group to problem solve issues on the set and in the script.
Broadly theme-focused learning resources (if available); if not available, a sentence or two to direct them to click the project (at the right) to find resources specific to projects.
The arts are for anyone! No matter your grade or interest, there is something for you to try and learn through Wisconsin 4-H Communication Arts. Arts provide the creativity and outlet your soul needs to sing! Check out how you can get involved!
State Art Experiences
State Art Groups (grades 9-12)
Contact
WI 4-H State Office
(608) 262-1222
Projects
More Project Ideas
Basketry
Beadwork
Books and Reading
Calligraphy
Candle Making
Ceramics
Collages
Communications
Computer Graphic Design
Creative Writing
Creative/Cross Stitchery
Dance
Drawing & Painting
Theater Arts
Resources
Learn the difference between cultural appreciation and cultural appropriation and why it matters.