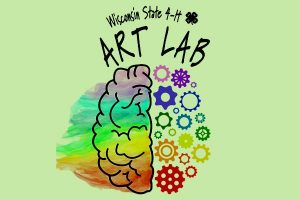 Wisconsin 4-H Art Lab is an opportunity for youth grades 9-12 to engage in the arts in downtown Madison. Partnering with UW-Madison and off-campus programs, this weekend will provide youth hands-on learning experience from university partners in a pre-selected art concentration. Program experiences will garner critical and creative thinking, self-expression, and further field knowledge, a focus on applications of art in the everyday world such as entrepreneurship, social justice, and community involvement, Concentrations will be coincided with entrepreneurial development activities such as group discussions, arts entrepreneur talk, and space and resources to plan future action. This is an open enrollment program; all Wisconsin youth are invited to participate in this program.
What will be new to the program?
Location: TBD
Concentrations: Working with professionals in Madison on and off university campus to lead the concentrations (or previously known as 'tracks')
Participants: Open enrollment program; all Wisconsin youth are invited to participate in this program, regardless of whether they are an enrolled 4-H member.
Entrepreneurship: Out of concentration activities with include conversations and resources to further develop ideas of how to bring your talents to the table in your home community.
2020 Art Concentrations
Visual Arts
Theatre
Spoken Word
Registration Information
Registration dates are TBD. This registration will be through 4-HOnline; a link to register will be posted. The cost of the program is TBD.
There are certain health and authorization forms required by UW-Madison, Division of Extension that need to be collected from youth who participate in our programs. If you are currently not enrolled in 4-H, the documents that will need to be filled out and submitted before participating in this program will be accessible through 4HOnline.