All about Wisconsin 4-H & Youth Conference!
Wisconsin 4-H & Youth Conference is a three and a half day Statewide Educational Experience. Youth from all over Wisconsin come to Madison, Wisconsin for educational seminars, assemblies, speakers, exploration, and fun on the UW-Madison campus! Youth Conference is made possible by contributions from our State Teams (Wisconsin Leadership Council, Drama Company, Art Team, and Communications team), 4-H staff from across the state, and a planning committee made up of staff, volunteers, and youth. Below you will find highlights of the different parts of Youth Conference that come together to make it a wonderful Educational Experience.
Seminars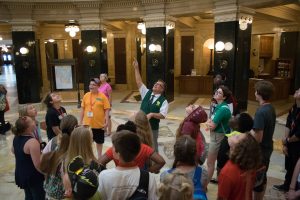 Every year youth get to choose between a variety of seminars during four different times to participate in. Every seminar is focused on hands-on learning where you get to actively learn while participating. On Tuesday morning of conference, everyone participates in a community service project in different places across Madison. These include: getting to know the ins and outs of community radio, helping out at a local food pantry, visiting and talking with senior citizens, learning about and building a Little Free Library, and much more! The other three seminar slots are open for youth to explore a variety of topics.
Is there a subject that you are interested in but have never gotten the chance to learn about in school? Youth Conference is a great place to explore some of these topics! Examples of these are:
STEM seminars with a variety of topics like robotics, space, entomology, medical careers, and more!
Leadership seminars like Unleash Your Inner Leader and Keeping Up with Cloverbuds
Healthy living seminars such as water sports with Hoofers, Yoga, and Run Smart, Live Smart!
Art seminars with the Art Team, gardening specialists, and Drama Company
And a variety of other seminars that you will love to learn from!
More information about seminars including the proposal form is located below.
Assemblies and Speakers
Every day at conference there is an assembly with a different "main attraction" where youth get the chance to sit back, learn about a variety of topics (including the State Teams), and have fun! Here's a quick overview of our assemblies and what to expect:
Monday Night: Monday night is an introduction to Youth Conference and what to expect in the days ahead. Youth and adults get the chance to hear from a variety of people, capped off with a keynote speaker whose message is focused on our yearly theme to get the energy flowing!
Tuesday night: Tuesday night is Drama Company night! Drama company arrives early at Youth Conference and takes that time to prepare a show just for you! These shows are fun, engaging, and focused on a topic that will teach you something without even realizing you are learning!
Wednesday night: Talent show time! Wednesday highlights outstanding performers who have auditioned at conference. Experience the great talent of your fellow delegates as they showcase their skills in singing, dancing, playing an instrument, and much more!
Thursday morning: Thursday is our closing ceremony. Hear all about what opportunities await you in 4-H and beyond from our WLC officers and close the night with an inspiring capnote speaker.
Exploration
Exploration is a huge part of Youth Conference! On Monday afternoon, you will have the option to explore Madison and the UW-Madison campus in a tour of your choice. You will also get the chance to explore the city in free time with your friends and an adult advisor. Not only do you get the chance to explore Madison, you get the opportunity to explore a variety of careers and potential majors. Youth Conference is a pre-college program and we offer a variety of seminars taught by UW Extension professionals and UW-Madison professors.
Fun!
Last but not least, Youth Conference is FUN! Whether you are experiencing hands-on learning, listening to a great speaker or assembly, or dancing the night away, Youth Conference promises to be a great time. Youth and adults alike get the chance to meet new people and have a great time while receiving a quality educational experience. Lifelong friends have been established at Youth Conference and so have lifelong visions for one's future. We hope to see you there!
State Teams – Click the links to learn more and apply!
Wisconsin Leadership Council – WLC helps run assemblies, conference as a whole, and activities so youth can get to know each other.
Drama Company – they put on a show Tuesday night and help bring the energy to conference.
Communications Team – they help to promote conference and highlight each day at the assemblies.
Art Team – helps to design conference and runs the art exhibit.
Additional Information
Seminar Proposals
You are invited to submit a seminar proposal for teaching at the 2022 Wisconsin 4-H & Youth Conference! We need a variety of seminars available for Youth Conference and your help would be appreciated. Seminars should be hands-on, interactive, and have a take-home component that participants can share when they return home.
The content of the seminar may relate to one of the conference learning objectives:
STEM (Science, Technology, Engineering & Math)
Civic Engagement
Healthy Living
Communication Arts
Life Skill Development (e.g. Communication, Leadership, Creativity, Social and Cross-Cultural Skills)
Other learning opportunities
Check back in Fall for information on 2023!
Seminar List
The list of seminars will be posted here when available.
Youth Conference Handbook (to be updated) – Check the handbook for everything you need to know about Youth Conference!
Step 1: Service projects and seminars will be assigned on a first come, first served basis so be sure to make your selections well before the opening day of registration so you're ready to register as soon as possible for best choices. This is a great opportunity to explore something new so be open minded and flexible about your selections!
Although most seminars are open to conference youth who are in grades 7-10, there are three age categories based on seminar design, materials presented, and suggestion of instructor. Please plan your sessions accordingly.
After reading the seminar descriptions, please select several possible service project or seminar choices for each of the four sessions to jot into the registration worksheet in this guide. At least one of your selections for each session must be non-water sports, in case those sessions fill early. Sorry, but each delegate may be assigned to only one water sport over the course of the conference and will be reassigned as needed if registered for more than one.
Step 2: Next step is to register for Youth Conference in your wi4honline account during the registration window.
If you are choosing a water sport or Lakeshore or Second Harvest service project activity, you will be asked to review, complete, sign and have a parent sign the appropriate Waiver form(s) and/or Photo Release form during on line registration.
Step 3: Complete and submit a University Health Services (UHS) health form, now completed online through www.campdoc.com. Shortly after registration closes, you will receive an email with login information to register for Camp Doc. You will then be able to fill out the form completely online. Visit the UHS webpage for more information: http://www.uhs.wisc.edu/eoh/youth-programs/. This must be submitted before registration is finalized. Youth should carry a copy of the completed UHS Health form during Conference.
Step 4: Adults: UW-Madison requires all accompanying adults -County Advisors and Instructors- to complete national background checks every two years. This policy was adapted in 2014. Updated procedures are presently being considered/reviewed. Additional information specific to background checks for 2019 Wisconsin 4-H & Youth Conference (YC) volunteers will be provided in very early May after on-line registration is completed by all participants.
Qualifications
Be in 7th-10th grade at the time of registration.
Be a 4-H member or member of another Extension program/partner.
Carry county approval through experience.
What Should Delegates Expect?
Register for the conference and seminars through 4Honline in April
Complete and submit a University Health Services health form through campdoc.com
Attend your country's orientation or attend the Zoom teleconference orientation run by Wisconsin 4-H.
Visit the flourishing city of Madison and stay in a UW-Madison Residence Hall.
Attend four educational seminars and four assemblies.
Hear from renown speakers.
Interact with and enjoy the work of Wisconsin 4-H State Teams.
Obtain tools to use back in home communities.
Meet new 4-Hers from across the state.
Engage in exploration, make memories, and most importantly, have fun.
Preparing for Conference:
The best advice from delegates from previous years was to come with an open mind, be ready to meet new people, and be prepared to have tons of fun. Make sure to pack clothes for rain, walking long distances, and anything for service seminars or water sports seminars you may need (check the seminar description for that seminar). Email will be used as a primary form of communication prior to conference so be sure to check your email often.
This information is being updated and will be available soon.
Opportunities for Staff to Participate in Youth Conference
Attend as an Adult Advisor
Teach seminars/workshops
Attend Drama Company or other programs
Help coordinate with bus stops in your County
2020 Information and Updates
Youth Conference is being held from June 22-25, at Witte Hall on the UW-Madison Campus. A couple of general updates regarding 2020 Youth Conference:
Adult advisors will now be applying for a position and registering at the same time. Applying doesn't guarantee a volunteer will be accepted for this role. There will be required orientations for adults via Zoom.
Statewide busing is being done again this year. Staff are asked to potentially be available on June 22 and 25th to greet buses and ensure that delegates can safely stay at the bus site without the bus needing to wait for families to pick up delegates.
2020 is our 100th year of Youth Conference! We are looking forward to a great year with a bunch of celebration built in.
Youth Conference is in Witte Hall this year. We are working on what this looks like compared to previous years and are making changes as needed.
Parking Permits
If staff are attending conference as a presenter or adult advisor and need parking, they will need to submit a request for a parking permit. The request form will be available online here (not yet available, check back soon). This cost will be reimbursable through an expense report.
Adult Advisor Introduction
An Adult Advisor's Introduction for Delegates form will be sent to Adult Advisors to aid in connecting adults with their delegates. Please assist your Adult Advisors by forwarding this completed form to appropriate counties for distribution to assigned delegates. We will send adult advisors a list of their delegates ahead of time in order to introduce themselves. Adult Advisors and delegates will meet at their 2:15 Meet and Greet on Monday, if not before then.
Payment Procedure
County payments are due to the WI 4-H Youth Development Office by June 15. An invoice and worksheet will be sent to staff in May with a breakdown of fees, along with a list of delegates. Payments are sent in for an entire County group, unless individual invoices are requested. Some seminars require additional fees to cover expenses, those are listed on the worksheet. Adult advisors do not have to pay for seminar fees or registration fees.
Submit one check to cover all fees, payable to UW-Madison Extension and send to WI 4-H Educational Programs, 702 Langdon St, 130 Pyle Center Madison WI 53706 by June 15.
This information is being updated and will be available soon.