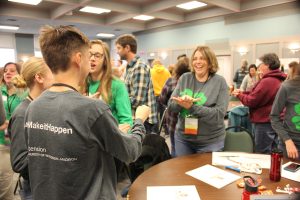 Fall Forum is an opportunity for youth and adult leaders to attend the statewide training weekend with county and state staff. Planned by a team of youth and adult volunteers from the Wisconsin 4-H Leaders Council with the support of county and state staff; promote to youth and adult leaders in your county! Our hope is that 4-H youth and adult leaders will come together to connect, collaborate, celebrate, and continue building excitement and energy for a new year of 4-H learning.
This year at Fall Forum, a select group of 4-H volunteers, pioneers, financial supporters, and staff who made major contributions to the 4-H movement at the local, state, and national levels will be inducted into the Wisconsin 4-H Hall of Fame.
The purpose of Fall Forum is to:
Provide an educational opportunity for youth and adult volunteers
Develop youth and adult partnerships
Create an engaging and welcoming environment to facilitate discussion between counties and regions
Encourage diversity of thought, perspective, interests, and people
Promote strategies for youth and adults to reach underserved and underrepresented groups
Each county is encouraged to send a delegation of youth and adults
Youth 7th – 13th grade
Adult volunteer leaders
Staff are invited and encouraged to attend as your schedule permits
This is a great opportunity for a team of county/state staff, volunteers, and youth to work together and present an interactive workshop for youth and adults as well as staff from throughout Wisconsin.
Fall Forum 2023
November 4-5, 2023
Green Lake Conference Center, Green Lake, WI
This year's event will include:
An inspiring keynote address by Tim Talen
Opportunities to participate in dozens of youth- and adult-led workshops on Saturday
Choose your own adventure interactive activities on Saturday night
Introductions to Wisconsin Leadership Council Candidates AND Wisconsin 4-H Hall of Fame Laureates
Updates from the Wisconsin Leadership Council and Wisconsin 4-H Program Leadership
And so much more! You won't want to miss it! 2023 Fall Forum Schedule DRAFT
Registration will open in 4HOnline in September.
Cost should not be a barrier to attending this program. If you would like a scholarship to cover Fall Forum fees, please contact Laura Pine, lpine@wisc.edu or (608)262-1222.
Please select from the following for help registering for Fall Forum:
I have a 4-H Online account but need help registering for Fall Forum
I do not have an account AND need help registering for Fall Forum
Needs-based scholarships are available for youth who participate in Statewide Educational Experiences. Scholarships require an application that is submitted to the state office. For more information on these scholarships and to apply, please visit the Scholarship page on our website.