4-H Shooting Sports
4-H Shooting Sports is a national program involving 4-H youth and adult 4-H volunteers. The Wisconsin 4-H program uses the National 4-H Shooting Sports curriculum to teach shooting sports safety to more than 5,000 youth with over 400 adult volunteer instructors across the state. Adult instructors are required to successfully complete a twelve-hour certification workshop before they are approved to teach youth. Our educational focus is on life skills development, safety procedures and responsible use of firearms and archery equipment.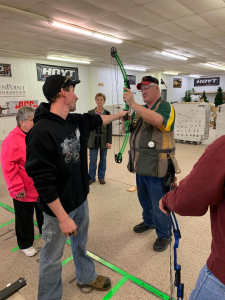 The Wisconsin 4-H Shooting Sports program in your area is geared for teaching beginning target shooting skills for youth at junior, intermediate and senior levels. Beginners learn basic skills through the County 4-H Shooting Sports program, advance to fun shoots within the county, progress to statewide invitational events and have the opportunity to make the Wisconsin National 4-H Shooting Sports Team competing at the National 4-H Championships at Grand Island, Nebraska.
Interested in shooting sports, hunting and wildlife? The Wisconsin 4-H Shooting Sports program is open to 4-H youth ages 8 (must be in 3rd grade) to 19. Contact your county's UW-Extension Office for more information about shooting sports opportunities in your area.
Contact
Doug Thompson, Coordinator
Wisconsin 4-H Shooting Sports
Extension, Brown County
Room 113, 2019 Technology Way
Green Bay, WI 54311
920-391-4657 (desk)
920-391-4610 (office M-F)
920-391-4617 (fax)
Doug.Thompson@browncountywi.gov
State Shooting Sports Activities & Information
Projects
Archery
Air rifle
Air pistol
Shotgun
Muzzleloader
.22
Rifle