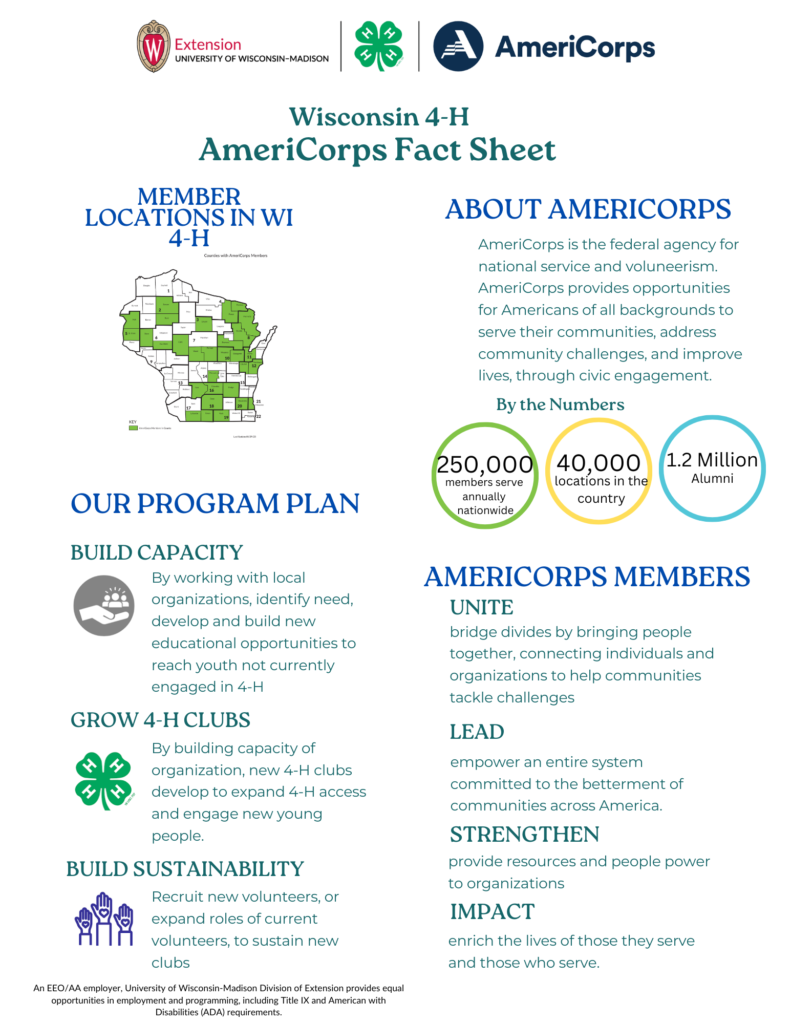 Wisconsin 4-H recently received an AmeriCorps grant to help us grow Wisconsin 4-H across the state! In 2023-2024, AmeriCorps members will work with Wisconsin 4-H to build relationships with partners, identify opportunities to increase capacity and begin new 4-H programming.
Our AmeriCorps programs have the goal of increasing the capacity of youth-serving organizations in counties throughout Wisconsin, by creating new 4-H clubs and programs. The members will work directly with community partnerships in youth-serving organizations to:
1. Assess current offerings
2. Identify opportunities to increase capacity
3. Develop and Provide new opportunities in counties across Wisconsin
The hope is to provide currently engaged youth with additional educational opportunities, reach new youth, and utilize new or existing volunteers in additional service to the organization. Through an asset-based approach, members will provide positive youth development opportunities – being led and supported by 4-H educators.
Interested in Serving as an AmeriCorps Member? Check out the listings below.
Half Time (900 hours) Positions (start date 1/8/24, end date 8/30/24) are open in:
Quarter Time (450 hours) Positions (start date 5/28/24, end date 9/30/24) are open in: