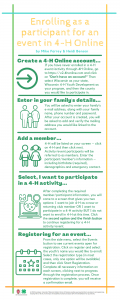 Event Registration (Not already enrolled)
VLC Participants do NOT need to be 4-H members, but they will need to use the 4-H Online system to register for events. Use the following instructions to register as a first time user.
Go to wi.4honline.com
Click to create a new account and select Wisconsin, then choose Wisconsin 4-H youth development.
Select the county you live in
Complete required information
Verify your address
This completes your family profile, now you need to add a member/members
Click 4-H as the program you would like to join
Complete member information and demographics
Choose I want to participate in a 4-H activity (non-4-H member)
Click on events, and choose event.
After you register as a participant once, you will be able to log on with that information and join more events.
View instructions with step by step screenshots (participant).