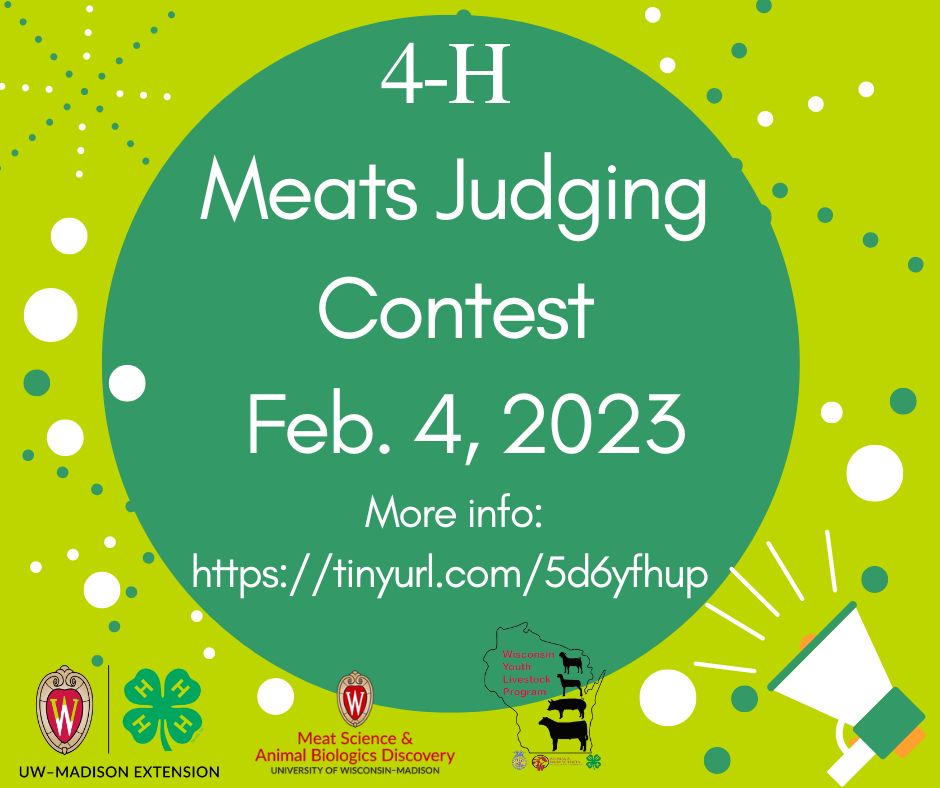 Mark your calendars for the upcoming State 4-H Meats Judging Contest on Saturday, February 4, 2023! If you have participated in the past or this is the first time you are hearing about the contest, we would love to have you join us for this day of learning, fun, and competition.
What is the 4-H Meats Judging Contest? Have you been to your local meat market or grocery store lately and think you could choose the best cut of meat out of the case? Have you ever watched a live animal contest and thought you could choose what animals would provide the best meat products? This is your opportunity to put those skills to work. This contest tests the knowledge of youth in the placement of carcass and retail cut classes, carcass grading, and retail cut identification. Top teams earn the opportunity to compete at regional and national competitions.
Who can participate? You must be a currently enrolled WI 4-H member to participate in this contest. The age divisions are: Junior – Age 8-13 as of January 1, 2023; Senior – Age 14-18 as of January 1, 2023. WI 4-H members that are in the 13th grade and have reached their 19th birthday prior to January 1, 2023 are eligible to compete at this state contest as individuals but not as a member of a team. Youth must be in or completed 3rd grade, 8-year-old Cloverbuds cannot participate.
Even if your county has not participated in the past, round-up some 4-H friends and take advantage of this fun opportunity to show your knowledge of the animal species and industry.
Looking for more information, where to register, or resources to study from? Check out the information below:
4-H Meats Judging – Saturday, February 4, 2023
Location: *New* Meat Science and Animal Biologics Discovery Building, UW Madison Campus
Deadlines: (more information located in the registration materials link below):
-Estimated number of participants (needed to order PPE): January 20, 2023 – through Google form
-Final registration: January 20, 2023 – through 4-H online
All contest resources are available on the UW-Madison Youth Livestock site.
If you have any questions, please contact Jill at jill.jorgensen@wisc.edu/phone at 920-391-4659 or Bernie at borourke2@wisc.edu/phone at 608-263-4304.
2023 Contest Results
2023 Meats Judging Junior Results
2023 Meats Judging Senior Results
2022 Contest Results
2022 Meats Judging Junior Results
2022 Meats Judging Senior Results
Contact Jill Jorgensen, 4-H Youth Development Agriculture and Animal Science Specialist, with any questions: jill.jorgensen@wisc.edu or (920)391-4659.
Needs-based scholarships are available for youth who participate in Statewide Educational Experiences. Scholarships require an application that is submitted to the state office. For more information on these scholarships and to apply, please visit the Scholarship page on our website.
This program is supported by the Wisconsin 4-H Foundation.  For more information please go to www.Wis4HFoundation.org.