2nd Annual Wisconsin 4-H Statewide Service Learning Project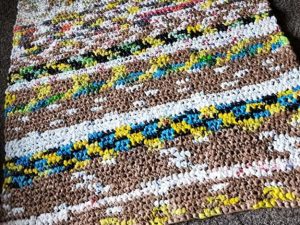 According to EarthDay.org, about one trillion single-use plastic bags are used every day in the U.S. We've created a service project to put plastic bags to good use and help those in our community who are experiencing homelessness.
Youth involved in the Plarn Mats project will learn how to create plastic yarn (plarn) from bags, and then crochet those bags into mats. The mats will be donated to local organizations.
The full activity plan includes an overview of the whole project as well as separate instructions for different parts of the project:
Making decisions about your plarn mats project
Collecting and sorting bags
Cutting plastic bags into loops
Making plastic loops into plarn
Crocheting the plarn mat
Donating the plarn or plarn mats
Click the activity plan button to complete a short form and access the full Plarn Mats Service Learning Project activity plan.
Click the video buttons on this page to watch tutorials related to the project. The videos feature Lily, 4-H youth leader and lead author of the activity plan.
Later, use the Project Donation Survey button to let us know how much plarn or how many mats your group donated.