1st Annual Wisconsin 4-H Statewide Service Learning Project
Activity Plan (Grades 3 and higher)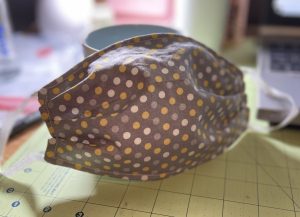 During times of disease outbreak, preventing the accidental spread of a virus protects everyone. Young people can help to prevent the spread by sewing cloth face coverings. The service-learning activity plan from Wisconsin 4-H includes guidance for adults and youth in safe and supportive service learning; step-by-step instructions with photos for how to make cloth face coverings that meet Centers for Disease Control and Prevention (CDC) guidelines; as well as reflection questions and opportunities to learn even more. Youth can get involved in this important project. Educators and families can support them in doing so safely. Wisconsin 4-H developed the Cloth Face Coverings Activity Plan as part of the University of Wisconsin-Madison Division of Extension.
When Elastic Is Hard to Get… Get Creative!
If you have looked for elastic in store or online, you probably know it's pretty hard to come by in the right width. Some others find that elastic isn't as comfortable or it irritates the skin behind the ears. But don't despair! We went to social media and asked those who follow Wisconsin 4-H Youth Development for their creative solutions. Here's a list of what they shared. We encourage you to borrow from their ideas or use it to spark some experimentation of your own!
Cut open a bungee cord. Lots of elastic strips.
Velcro straps
Cut up an ace bandage
Hair ties (Note: We've also heard that depending on the hair ties, they might break your needle.)
Panty hose or nylons create super soft bands for these masks that are stretchy enough to securely hold it.
Using 1″ of cross grain t-shirt material and pull it tightly to make tarn (t-shirt yarn) that is more comfortable on the ear than elastic.
A Chinese jump rope
Cut the elastic out of an old fitted sheet. It works fine without even pulling the fabric covering off.
Stretchy potholder weaving loops around like the kind youth use to weave on a loom
Cut up cloth head bands, pony tail scrunchies, and used shoe laces.
Old bra straps