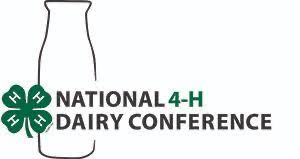 The National 4-H Dairy Youth Conference is the Place to be this Year!
National 4-H Dairy Youth Conference is October 1-4, 2023 in Madison, WI. The conference is for youth ages 15-18 years old, who are eager to learn more about the dairy industry. Students will have the chance to go on different farm tours, other industry-focused tours, listen in on different speakers, and be able to attend World Dairy Expo. 
The conference started in 1955 after Guy C. Noble proposed the idea of a youth conference at the International Dairy Show in 1954. The conference was then held at Conrad's Historic Hotel in Chicago, IL. For 15 years the conference was held there, until in 1970 it was moved to Madison, WI to be held in conjunction with World Dairy Expo. Since then, the conference has held strong, and the values within have never shrunk. Members experience four days of learning and being able to create connections with others within the dairy industry they wouldn't have had without the conference.
Registration Information: Registrations for both teen conference delegates and chaperones are due by September 11, 2023. The registration fee for 2023 is $650/person. This includes lodging from Sunday, October 1 through Wednesday, October 4 (checkout on Thursday morning), most meals, and transportation during the conference. If you don't have a chaperone attending from your county, you can still attend. You'll be matched with one of the two identified Delegation Coordinators from Wisconsin.
To register or for more information on the conference, please visit: https://national4hdairyconference.org/2023/07/26/2023-registration-is-open/https://national4hdairyconference.org/2023/07/26/2023-registration-is-open/
Do you have questions about the conference? Charlie Crave has some great insight to share and he can be reached at: charles@cravecheese.com or 920-285-3812