How can we live a creative life? That was the topic of exploration for the Wisconsin 4-H Drama Company and Art Team as they learned, shared, and grew together over three June days in Madison. Typically, these teams' culminating work occurs as part of the annual 4-H Youth Conference. Due to the conference's cancellation in 2022, the teams put their creativity to work and found purpose and value in new, unique ways to explore their creative sparks, build connections and community, and explore the UW-Madison campus.
After meeting each other and forming teams at the 4-H Spring Planning Weekend in April, collaborating virtually and working independently throughout the spring, and three final days in Madison, both teams presented their final, youth-driven art.
The Wisconsin 4-H Art Team finished the final pieces and assembled a beautiful compilation of 4-H Sparks puzzle pieces which formed the state of Wisconsin. The artwork will be presented at future 4-H events and hang in the Wisconsin 4-H state office for years to come.
The Wisconsin 4-H Drama Company collaboratively created a performance titled, "Where Are You Going? A Creative Life Explored!!" Through dance, song, and prose, they invited the audience on a journey on the "Green Line Subway" at the UW-Madison Mitchell Theater.
We are proud of the growth of all of the state team members. From uncertain and reserved when they walked into Spring Planning Weekend to confident and authentic when they departed from Madison, they demonstrated the leadership, poise, and confidence that 4-H members are known for throughout the state of Wisconsin.
Interested in joining a team next year? Watch for information and application instructions this fall!
Hats off to our 2022 Wisconsin 4-H Teams!
4-H Drama Company
Katy Farrey, Rock County
Katy Haworth, Eau Claire County
Aspen Jens, Sheboygan County
Roslyn Kramer, Oconto County
Adee Nolden, Sauk County
Madison Oeftger, Winnebago County
Nathan Strickland, Racine County
Paige Subra, Trempealeau County
Rowan Wilson, Jefferson County
Jay Johnson, Drama Company Director
Shirley Miller-Frey, Drama Company Assistant Director
Barb Satnik, Volunteer
Chad Luerssen, Volunteer
4-H Art Team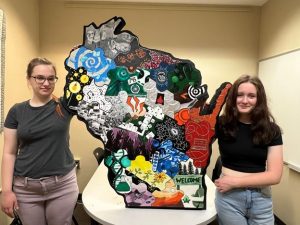 Emily Hauer, Portage County
Emma Najdowski, Rock County
Molly Damm, Columbia County
Sylvia Dums, Winnebago County
Morgan Gunther
Caroline Kohlmann, Waukesha County
Lily Schwartz, Eau Claire County
Stephanie Kempe, Art Team Director