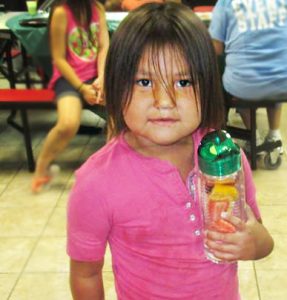 An innovative 4-H program in Menominee County/Nation is sparking sustainable and culturally-relevant change. The goal: to empower youth and adults to take action to improve their own health, the health of their families and of their communities.
At the June meeting of the 4-H Club in Keshena, a group of UW-Extension employees and young members of the Menominee Indian Tribe discussed water. The Menominee culture regards water as sacred part of life. The conversation continued that, on the other hand, sugary drinks might not be as beneficial for growing bodies. Then, the young people received water bottles. UW-Extension staff taught them how to infuse water with combinations of fresh ingredients like cucumber, mint, basil and raspberries. At the end of the meeting, young people took home recipe sheets to share with their families.
"Parents say the kids use their water bottles all the time instead of drinking sugary juices or soda," says Sofie Teller, 4-H Youth Development Educator for Menominee County. "The parents are finding themselves buying more fruit, lemons and limes so the kids can make infused water. They're being super healthy and they don't even realize it!"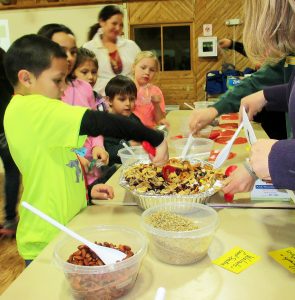 In 2013, Wisconsin 4-H Youth Development was awarded a grant from the U.S. Department of Agriculture grant to work with youth and families in Menominee County/Nation. The location was carefully chosen. 4-H aimed to use the Menominee culture as a foundation to improve health outcomes in a community with significant disparities compared to the rest of Wisconsin.
The county and reservation began with one 4-H club in Keshena, but added another last year in Neopit to reach additional families. Young people ages 5-12 gather every other week for 2.5 hours at the College of Menominee Nation in Keshena and the Neopit Community Center. Parents and caregivers are invited. Teller, also a tribal member, facilitates the meetings and club events with local UW-Extension staff from the Community, Natural Resources and Economic Development and Family Living Programs.
Most meetings include a short nutrition lesson using the USDA's MyPlate diagram for recommended portions of food groups at each meal. Next, the young people get moving with a game that encourages physical activity. Then, they participate in a hands-on learning activity.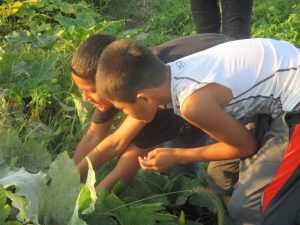 In line with improving health outcomes, each 4-H group has a garden club, lead by the local UW-Extension office with support from the Master Gardener's Association and the College of Menominee Nation's Sustainable Development Program. Garden clubs use the Menominee language and historical teachings in their lessons and activities.  
The 4-H clubs also help young people get involved in their community and spread awareness about health and 4-H. This year the Neopit group built a float for a local Memorial Day parade and the Keshena group participated for the second time. Club involvement encourages and prepares both youth and adults to take on leadership roles.
In July, parents planned and organized a field trip to Annie's Campground near Shawano. From the location to meals and transportation, this involvement supported caregivers and other adults in serving the community within and beyond the clubs.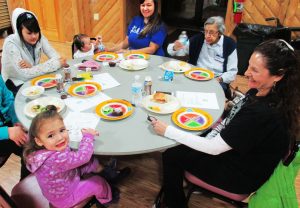 "That's one of the successes — that we have parents coming in with kids," Teller says."I feel like there's a greater sense of ownership now. They're right there with me."
Some older youth members are ready to start taking on leadership roles, which means helping to plan, teach and act as mentors for younger club members.
Community-wide events are another avenue to promote healthy behaviors. An event in March focused on staying physically active in the winter. It included guest speakers and snowshoeing instruction, along with a healthy meal. Food is an integral part of each gathering.
These events, like an evening of traditional games taught by an elder and a spring ceremony to bless seeds and pray for strong crops, bring generations together through shared culture.
"Our cultural events provide a space for elder teachings and sharing with the younger people by using the experiential learning model," Teller says. "Youth are learning by doing and many participate in the dances and listen to the stories."