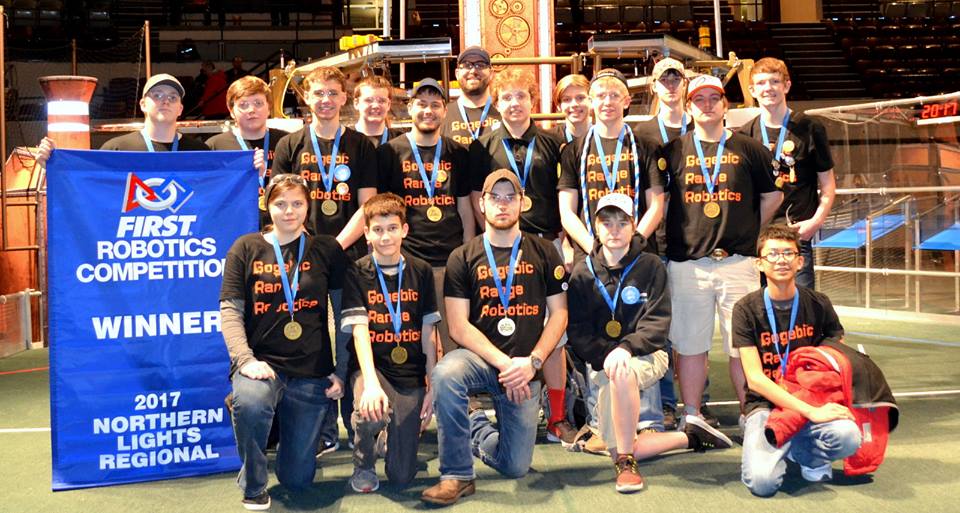 Iron County 4-H Youth Development Educator Neil Klemme is leading a rookie team of local high schoolers to an international robotics competition, teaching  STEM skills and professionalism along the way.
The 15-member Gogebic Range Robotics Team participated in the FIRST Robotics Competition in Duluth in early March. FIRST competitions gives high school students and their adult mentors the opportunity to work and create together in order to solve a common problem. One of four rookie teams out of 60 teams participating, they were told not to expect to qualify. But after the four-day competition and collaborating with other teams, the Gogebic Range Robotics Team was named regional winners, qualifying for the World championships in St. Louis in April. They also took home several awards: Highest Rookie Seed, Rookie Inspiration Award and the Unity Award.
Before the competition, the Gogebic Range Robotics team had 6 weeks to build a robot from a basic kit to perform a variety of tasks during several 2.5 minute competitions. The majority of the parts needed to be fabricated by the team. They could spend or have donated $4,000 in parts. One of the robot's tasks was to collect Wiffle balls and shoot them into one of two hoppers. Another task was to transport gears from one end of the course to the other and place them on a peg. Bots were also required to climb a rope.
The team is sponsored by the local 4-H Leaders Association and includes five registered coaches and mentors, including local machinists, a shop teacher, one team member's father and Klemme.
Klemme says that the team is learning a principle called Gracious Professionalism that's part of the ethos of FIRST.
"It's a way of doing things that encourages high-quality work, emphasizes the value of others, and respects individuals and the community," he says.
To learn more about 4-H in your area, visit your county's UW-Extension page.
To learn more about 4-H STEM programs in Wisconsin, visit https://fyi.extension.wisc.edu/wi4hstem/.