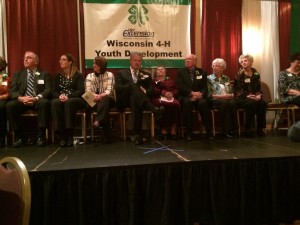 The University of Wisconsin-Extension 4-H Youth Development Program inducted 11 laureates into the Wisconsin 4-H Hall of Fame Saturday, November 7. The 2015 laureates are the second Hall of Fame class, after 100 individuals were inducted in 2014 to celebrate the Wisconsin 4-H Centennial.
The Wisconsin 4-H Hall of Fame was established to recognize 4-H volunteers, financial supporters, staff and pioneers who made major contributions to 4-H at the local, state and national levels. The honorees represent 4-H in the broadest sense, according to Wisconsin 4-H Youth Development State Program Director Dale Leidheiser.
"The 2015 class of Hall of Fame laureates represent more than 300 years of service and support of Wisconsin 4-H," Leidheiser says. "We are pleased to honor the impact their time, energy and contributions have had on Wisconsin 4-H families and communities."
Since 1914, Wisconsin 4-H has helped youth grow the leadership, critical thinking and communications skills necessary to be successful in a constantly changing world. To learn more about the individuals who supported 100 years of growing Wisconsin leaders, visit https://fyi.extension.wisc.edu/wi4hhof/.