Title IX Reporting Sexual Misconduct Training Requirement
All Wisconsin 4-H volunteers are required to report incidents of sexual misconduct that take place in Extension programs and complete training on how to report concerns. The questions and answers below contain more information about this requirement.
Questions about Reporting
A. Sexual misconduct. Sexual misconduct includes the following activities that occurred or may be occurring in Wisconsin 4-H.
Sexual Harassment: Sexual harassment includes unwelcome sexual advances, unwelcome requests for sexual acts in exchange for something, and unwelcome physical behavior or words that are sexual.
Sexual Assault: Sexual assault is sexual contact without consent. Consent is words or clear actions that openly show a person who is competent to give informed consent freely agrees to the sexual contact. Minors aged 15 and younger are not legally able to give consent. It is prohibited for sexual contact to take place between 4-H adult volunteers and youth who participate in 4-H programs.
Stalking: Stalking is a course of conduct that causes a person to reasonably suffer serious emotional distress or fear for the safety of others.
Dating or Domestic Violence: Dating or domestic violence is a pattern of coercive and abusive action used by one person in a relationship to gain power and control over another person. It can take many forms, including physical violence, sexual abuse, coercion, threats, intimidation, isolation, or emotional abuse.
Sexual Exploitation: Attempting, taking, or threatening to take nonconsensual sexual advantage of another person. This includes, but is not limited to taking inappropriate pictures of another person without their knowledge or threatening to distribute photos to force someone else to engage in sexual activity.
Retaliation: Harmful action(s) against someone who has taken steps in opposition of acts of sexual misconduct (e.g., threats about being removed from the program if they report possible sexual harassment).
To read the full definitions of these words, you can review the UW-Madison Policy on Sexual Harassment and Sexual Violence, https://policy.wisc.edu/library/UW-146.
A. When young people experience sexual misconduct, it can have a negative impact on their wellbeing, including their mental, physical, and emotional health. For example, young people who experience sexual misconduct are more likely to have symptoms of depression, anxiety, or post-traumatic stress. They may also start to struggle in their classes or after-school activities and may not feel safe continuing to attend youth programs.
A federal law called Title IX of the Education Amendments of 1972 includes requirements for reporting sexual misconduct. Adults who work with youth in federally funded educational programs, including volunteers, are required to report concerns about sexual misconduct. Wisconsin 4-H and other youth serving programs in Extension fall under this law.
A. You should contact your local educator about concerns regarding possible sexual misconduct and other issues that may occur in Wisconsin 4-H. They will forward the concern to the staff who are trained to investigate these types of concerns. If your local educator is not available or you would prefer not to report to them for any reason, you must fill out this form, https://cm.maxient.com/reportingform.php?UnivofWisconsinMadison&layout_id=11.
A. Yes. You must report concerns regardless of where the program took place. Remember, Extension staff members are trained to help you with reporting. If you prefer not to use the form, you must report the concern to your local educator.
A. If in doubt, report! Extension staff will help you work through the issue and help you with required reporting. You do not need to be certain an incident happened to report concerns.
A. You may see behavior that violates Extension's abuse and harassment policies. Other times, you may hear about it secondhand. For example:
A youth talks to you about a concern
A youth hints that abuse is happening in their home
A volunteer tells you about a concern
You hear a rumor that something may have happened
Report what you learned secondhand, especially in cases of sexual misconduct. Remember, if in doubt, report!
A. A youth may ask you to keep a secret about something they told you. However, confidentiality is not an option in cases of sexual misconduct, child abuse, and neglect. To address worries, Extension staff and volunteers can tell the youth or their parent/guardian:
Your safety is important. Volunteers are required to report this to keep youth safe. The university does not allow retaliation against anyone who reports misconduct.
Your privacy is important. The university will keep the information as private as possible. Relevant information
A. Staff from the UW-Madison Sexual Misconduct Response Resource and Response Program will reach out to individuals who may be involved in the situation. They will help determine if sexual misconduct took place and assist individuals who may have been victims of sexual misconduct with resources if they are interested in that information.
The youth and their parent/guardian are not required to respond. The Sexual Misconduct Resource and Response Program will always prioritize the youth's safety.
Questions about Training
A. Send an email to oc.compliancetraining@wisc.edu with your names, email address from 4-H Online, and the program (4-H). They will manually mark your training complete.
A. This training supports 4-H's commitment to youth safety and YOUR safety and it hasn't been provided in the past. We want to make sure you have the information you need to keep everyone safe, and make reports when necessary. You need to take Section 1 and Section 2 of the training required by Title IX. You do not need to take Section 3.
A. To take the training:
Click on the following link, https://youthtraining.compliance.wisc.edu/.
Then click on either "CLICK HERE TO START" in the Training Instructions or "Section 1" on the red bar at the top of the screen. If you are taking the training on a phone or table, click on "Menu" in the red bar at the top of the screen.
Sign up using the name and email that you use in 4-H Online.
Type in "4-H" when it asks about the program for which you are seeking certification. Do not type in your county, club, project, or role. Only type in "4-H."
You do not have a NetID. That is a field for university employees only. Leave this field blank.
There are 3 sections to the training. To complete requirements for 4-H, you only need to finish Section 1 and Section 2.
Below is an image of what the registration screen should look like.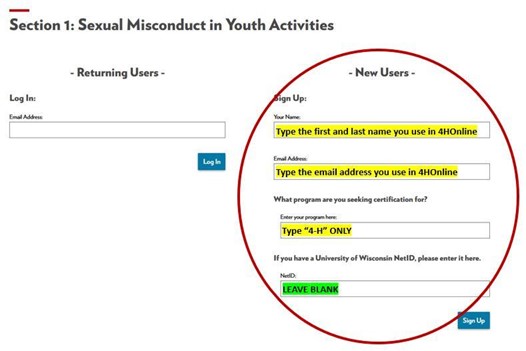 Remember, there are three sections to this training. YOU only need to complete Section 1 and Section 2. Be sure to use the same name and email that you use when you register in 4-H Online as a volunteer. This is how 4-H will be able to track your completion.
A. To take Section 2 of the training:
Click on the following link, https://youthtraining.compliance.wisc.edu/.
Then click on Section 2 in the red bar at the top of the screen.
Assuming you already created an account, sign in using the email you used to create the account. You will not be asked for a password.
A. No. Your training is complete when you finish Section 1 and Section 2. Section 3 is only for volunteers who work with youth on university property. Should a 4-H program you participate in be held on university property, someone who works at that facility will already be trained in Section 3.
A. Your training will be tracked using the name, program name, and email address entered when you create your account. To avoid confusion, use the version of your name you registered with in 4-H Online and the same email address. Remember, enter "4-H" when asked to enter your program. You do not need to email proof of completion to your program or your local educator.
A. No. This system only sees the training as complete when you complete section 3 HOWEVER, the 4-H program sees the completion on the backend and will mark it complete in 4-H Online. If you wish to receive a confirmation email, please email oc.compliancetraining@wisc.edu and one will be mailed to you.
A. No. You can log back in and pick up where you left off.
A. If you are having trouble viewing the training or using a mobile device, click Launch Accessible Version. You will be able to read all of the content in the training. There is no audio or video in the training.
This accessible text-based version of the training covers the same content available in the interactive training and is designed to be more easily accessed for learners using a screen-reader or needing a printed version. For other training accommodations, please contact the Office of Compliance at oc.compliancetraining@wisc.edu.
A. If you have feedback about the training or experience technical or other errors, you can email oc.compliancetraining@wisc.edu.
Wisconsin 4-H is working to integrate this training into the 4-H volunteer registration process.
A. You will be required to take Section 1 and Section 2 of the Sexual Misconduct and Clery Crimes in Youth Activities: Reporting and Prevention Training before your registration is complete. Information about how to complete the training is included in the registration process in 4-H Online.
A. This information will be part of ongoing training for all volunteers who work with youth. In an attempt to streamline the number of training modules volunteers need to complete, Extension is working with the Office of Compliance to include this information in its updated youth protection training modules, which are scheduled to be launched by the new enrollment year.
A: Completion of this training will be required for re-enrollment in the fall. Additional opportunities to complete the training will continue to be offered and it will be integrated into overall training for new and ongoing volunteers.