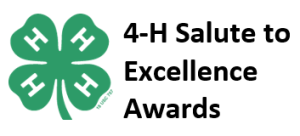 Wisconsin 4-H has many outstanding volunteers!
Here is your opportunity to nominate someone from your county or tribal nation to be considered for the Outstanding Lifetime Volunteer or Volunteer of the Year award.
4-H Volunteer Categories:
Outstanding Lifetime Volunteer Award – 10 or more years
Volunteer of the Year Award – less than 10 years
Wisconsin will recognize two volunteers on November 5 at Fall Forum. Submit by September 30.
Picture that volunteer. YOU know who continues to make a difference. Think about a volunteer who has started new programs, expanded existing programs, reached new audiences, volunteered at the county, regional, or state level; connected club members to service projects in your community. See their face, their smile, their enthusiasm?
Act now! Youth and adult leaders work with Extension staff to nominate someone who has impacted your club, community, and beyond!
For more Info: https://4h.extension.wisc.edu/salute-to-excellence/
Wisconsin Award Recipients: https://4h.extension.wisc.edu/2021/11/09/brenda-oft-salute-to-excellence-volunteer-of-the-year/
National Award Recipients – https://4-h.org/about/salute-excellence-awards/