This speech was given by Adam Riley, Youth Vice President of the Wisconsin 4-H Leadership Council, at the closing assembly of Wisconsin 4-H & Youth Conference at Shannon Hall, UW-Madison Memorial Union, in Madison, Wisconsin.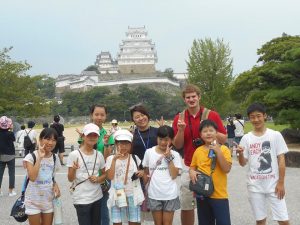 June 10, 2015: Narita International Airport, Tokyo, Japan. "I have little idea of all that I will experience, but I am eagerly awaiting these next eight weeks."
Little did I know that the following 8 weeks would be filled wonderful host families, countless self-introductions and numerous friendships during my home-stay, through participation in a 4-H Exchange to Japan.
Having been active in other 4-H events and experiences, I had become used to meeting people and, in general, being away from home. Nonetheless, meeting, becoming familiar, and being welcomed and accepted for who I am by a family I had never met just a week or two before has truly been impactful.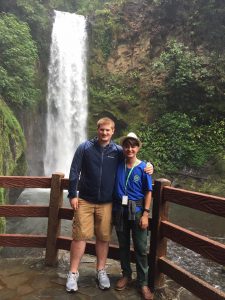 June 24, 2016: I have been privileged to travel again internationally through 4-H. This time, to Costa Rica for 4 weeks. Once again joined by other 4-Hers from across the United States and a few from Canada, I was adopted into my host family: this time the Rodriguez Family. Estiven, one of my host brothers, was a member of the 4-S Club in his high school. Like 4-H, 4-S places a strong emphasis on service to the community. 4-S members serve others in a variety of ways, from litter removal and forest restoration to recycling campaigns. Above all, 4-S has created opportunities for those who needed it the most — youth living in rural areas. Many other countries have also started programs similar to 4-H. 4-H Ghana developed curriculum about gender equality, as many young girls still face struggles to receive the same education as boys. Lessons teaching about gardening and health developed right here at the University of Wisconsin are reaching some of these same 50,000 youth.
August 1, 2016: 4-H State Office, Madison, WI. After a little convincing, my parents were open to the idea of hosting. We welcomed Keita, a student from Japan, to our home. Being on the other-end in the exchange program realm, it was unique to learn more about myself and my own culture through the eyes and perspectives that Keita shared. Through this experience, I have become much more aware about the diversity of thoughts, ideas and perspectives that any group of people form. However, differences between others, rather than being seen as bothersome, should be celebrated as we can learn more about ourselves simply by learning about others.While gaining a lifelong friend, I also began to recognize how blessed I am to live where I do and have as many opportunities offered to me as I do.
June 29, 2017: Memorial Union, Madison,Wisconsin. Here I am. Surrounded by 450 of Wisconsin's evolving leaders. Leaders of today, as tomorrow never actually comes. I hope this amazing organization inspires you to create change for those who need it most, as it has for me. Most of you will not travel internationally through 4-H or perhaps be able to travel at all. However, you should all know that you are part of millions of 4-H'ers found across the globe inspiring others and creating a positive impact.
You should be proud to be part to be of an organization that that supports positive growth in people no matter what background they may come from. You should be proud to be part of an organization that allows you to pursue your passion, whether that be science, the arts, agriculture, leadership, or anything in between. You should be proud to be part of an organization that supports you for who you are and your journey, even if it is on that road less traveled. You should be proud to be part of an organization that creates unity among differences. Friendships among peers, and among all, leaders in communities that need it most. I know I am proud to be part of that organization known as 4-H. Thank you.