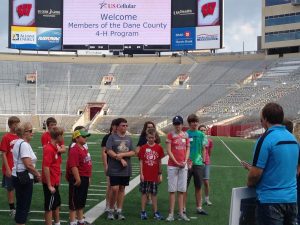 4-H members from clubs around Dane County got a behind-the-scenes tour of Camp Randall Stadium to learn about science, technology, engineering and math (STEM) principles. On August 3, more than a dozen 4-H-ers heard from a representative from JP Cullen, the company that recently completed renovations on the stadium, as well as a spokesperson from event sponsor US Cellular. The clubs represented were Twin Valley, Cambridge, Glacial Drumlin, Oregon Headliners, Ashton Go Getters, Prairie Promises, Waunakee Whirlwinds and Mudsliders.
4-Hers learned how engineering ensures the structural integrity of the Camp Randall, which seats more than 80,000 people. Engineering principles are used throughout the stadium, from the recycled turf to the shape of seating areas. Dane County 4-H Club members also heard about collaboration between engineers and architects to create functional, yet visually appealing buildings. They also learned about different types of engineering careers.
A spokesperson from US Cellular taught students about the technology behind the distributed antennae system (DAS) that will be installed to ensure better connectivity for game-goers. 4-H-ers got the chance to test the text-to-screen program by sending messages to be displayed on the Jumbotron.
During the tour, two Madison TV stations interviewed 4-H members and Wisconsin 4-H STEM Program Specialist Joanna Skluzacek and later aired segments about the tour and the 4-H STEM Program. Youth interviewed by WMTV Madison television NBC 15 News said they enjoyed how engineers used input from the community in designing some aspects of the stadium.